Icarus
Icarus have been making electronic music for the past five years, releasing music on various independent labels and achieving recognition for their distinct sound and complex compositional technique. in recent years, the band has tended towards the more experimental end of electronic music, with a particular intrest in the relationship between composers, computers and performance.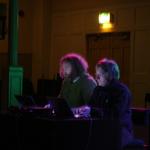 Discography
2004
I Tweet The Birdy Electric (Leaf)
2003
Six Soviet Misfits (Temporary Residence)
2002
2001
Squid Ink (Output Recordings)
2000
UL-6 (Output Recordings)
Kamikaze (Hydrogen Dukebox)
Fijaka (Hydrogen Dukebox)
Future concerts
2009: Icarus opened our new inspace program
2010: We are very please to have half of Icarus back with Sam Britton playing with Leverton Fox at The Voodoo Room.