2008 - Episode 1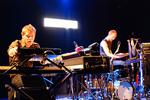 The Bongo Club Edinburgh (map)
7 - 10pm, £5 / £3, advance sales
Dialogues is branching out from the festival format to present some special succinct snippets to amuse your eardrums. We are very proud to start the proceedings with the Scottish debut of a band that we've been hearing a lot about from our Norwegian friends...
Puma is an award winning power trio taking cutting-edge Norwegian improvised music forward with brute force and masses of noise!
Lapslap are an Edinburgh-based free improvisation trio folding live electronics, horns, and keys together with a spark of sweet venom.
Stay tuned for another dialogues event planned for November 2008.