Saturday May 12th, 7:00 - 10:00
The Bongo Club, Edinburgh
£10/£7
In my role as the noisy one in Dialogues Festival, it occasionally gives me the privilege to choose who I would like to make noisier and where I am going to make them noisy. So I am looking forward to this night Very Much, both due to the sounds that I get to amplify, but also to make as much use of The Bongo club as possible before Edinburgh University exercise their eviction order which will leave Edinburgh a considerably more boring place
Alex Fiennes
---
Ma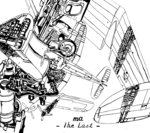 I have been working with Ma since the their jazz on 3 broadcast at The Loop Festival that I was amplifying and recording in London, and I am very happy to introduce Scotland to my most exciting recent musical discovery that I have had the pleasure of amplifying outside Scandinavia...
In Just a few short years Ma have carved out a reputation as one of the most interesting of a new wave of electro-jazz outfits. Led by Redsnapper/Outhouse saxophonist, Tom Challenger, an improviser and composer who has been described by Jazzwise as 'mature beyond his years' and influenced by the likes of Burial and Supersilent, Ma features fellow Loop collective collaborator, drummer Dave Smith and Matt Calvert on electronics. Within a setting of dubby beats and drones, Ma utilise deceptively simple themes as a launch pad for music that is hugely atmospheric but full of powerful improvisation and unexpected textures.
Their latest album 'The Last' is a culmination of 18 months work combining improv, electronics, live sampling, and synths into their new music. In the process their music has become simplified, with predominantly improvised shows moving slowly between pre- prepared material, during which the band reposition the boundaries of the 'sonic' worlds that currently exist within jazz and improvised music. Drawing on dark, abstract dub sound worlds, Ma's musical process moves beyond the scope of most jazz-electronica projects towards something compelling, cohesive and highly individual. Fiercely interactive, the band contribute ideas simultaneously as compositions are deconstructed, developed and reformed. In turn, this inspires passages of interweaving group improvisation that produce thematic elements that are then subjected to the same processes.
http://www.tomchallenger.co.uk/projects/ma
http://www.loopcollective.org/records/Loop-Records/Ma-The-Last
Tom Challenger - Red Snapper / Outhouse
Tom was born in Huddersfield, UK, where he played in school ensembles and local R'n'B bands – it was in this type of environment that he started to develop his interest in improvisation and creative music in general. In 2001, he moved to London to attend the Guildhall School of Music and Drama, from where he graduated with a first class honours degree.
Since 2007, he has been a member of Trip Hop and Electronica pioneers, Red Snapper – both as a performer and as a compositional collaborator. Tom also pursues an ongoing project called 'La Ferme' - a series of duos and solo performances. So far this has led to performances with percussionists Ben Bryant and Charles Hayward, and a record with (Three Trapped Tigers keyboardist) Tom Rogerson (release in 2010 on Mini Loop records). As a member of Dice Factory (with George Fogel (piano), Tom Farmer (Bass), Jon Scott (Drums)), he helps contribute compositionally and as a performer. They are due to release their debut album in late 2011.
Aside from all of the above projects, Tom can be heard performing as a sideman in varied situations; from the acoustic layers of Bruno Heinen's 'Tierkreis'; to the Avant Funk of Porpoise Corpus; to the more traditional format of the Hannes Riepler Quintet. He has - in the past - performed and collaborated with a vast array of musicians including Michael Garrick, John Taylor, Lol Coxhill, The Herbaliser, Plaid and The Bays.
http://www.tomchallenger.co.uk/
Dave Smith - Outhouse / JuJu
Dave Smith is one of the finest young drummers on the British creative music scene. Drawing on a wide range of influences, from West African percussion to jazz drumming, his explosive style and musical sensitivity give him the versatility to play in many musical environments.
Dave is best known for his work in co-leading Outhouse, a Loop Collective group that formed in 2005. Since releasing their debut record on the Babel label, Outhouse have toured the UK and performed in Canada, Germany, France and West Africa. Outhouse projects have included working with Icelandic guitarist Hilmar Jensson, Canadian group [IKS], Stephane Payen, Jeanne Added and Le Bruit Du [Sign] from Paris, and Quebecan laptopist/bassist Pierre-Alexandre Tremblay.
Dave also performs and recorded with award winning world music outfit JuJu (Justin Adams & Juldeh Camara) on Real World records, Robert Plant, Berber/Parisian singer Iness Mezel, Loose Tubes' Mark Lockheart Quintet, Donny McCaslin (USA), Eddie Henderson (USA) and Ingrid Jensson (USA) amongst others.
http://www.loopcollective.org/people/Dave-Smith
Matt Calvert - Three Trapped Tigers / Evil Ex / Silver Birch (Acoustic Ladyland)
Matt Calvert's versatility has seen him working various roles within the more adventurous ends of rock, electronica and jazz.
Usually found writing and playing guitar/keyboards for London experimentalists Three Trapped Tigers, he also produced their critically lauded debut LP 'Route One Or Die' (Blood And Biscuits), described by NME as "the sound of imagination itself".
As a member of Tom Challenger's group MA, Matt uses laptop for live sampling/processing to achieve their blend of expansive dub atmospherics and glitchy improv, heard on the band's first album to feature him 'The Last' (Loop Records), which received glowing reviews from the Guardian (4/5), Jazzwise (4/5) and the BBC magazine (5/5).
In between these duties, last year Matt released a solo EP, 'Bygones', under the moniker Evil Ex - described by Clash as a "thrilling mixture of abrasive sounds and something rather more ethereal…quite sublime" - and is currently working on new material for release and live performances in late 2012.
He has also worked with Acoustic Ladyland, the Heritage Orchestra (composing for their debut album as well as multiple live performances) and UNKLE amongst others, recently producing Wrexham electro-math rock band Gallops' debut LP.
http://soundcloud.com/mattcalvert
http://www.myspace.com/mattcalvert
---
NeWt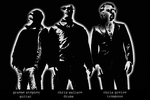 I have had the pleasure of working with NeWt in various projects over the years, but it wasn't until I was doing their support slot for Bill Frissell in the London Jazz Festival this year that I realised that I really wanted amplify them in a less formal situation with more dynamic range where I could work with the bottom end in the manner that it really deserves...
The extraordinary instrumentation of guitar, trombone and drums is one of a kind, making NeWt sound like no other group. The common languages are those of jazz and improvisation, however, elements of rock, ambient/electronic and folk/world music are also prevalent in the sound.
NeWt's music has been compared to everything from "New York underground" (Tim Berne/Jim Black's Alas No Axis), to "Lyrical Post-bop" (Dave Holland's recent Quintet) and even Stravinsky. Their latest album "NeWt 2" featuring Silke Eberhard from Berlin, has been released by the F-IRE Collective of London to wide acclaim.
NeWt @ London Jazz Festival '11
Graeme Stephen
Graeme Stephen was born in Aberdeen, Scotland. Now residing in Edinburgh, he performs with numerous projects playing a wide array of styles from free improvisation to folk music. Having recorded with various groups Graeme released his first CD with his trio in 2006, featuring New York based musician Eivind Opsvik on bass and London based drummer Stuart Ritchie.
Chris Greive
Born in Perth, Western Australia in 1969, Chris started playing music at the age of 11. Chris gained a Bmus degree, was a finalist in the Australian Jazz Brass Awards 1996 and has made a big impression since moving to Scotland.
He has recorded with the Haftor Medboe Group, Salsa Celtica and Live Sciences. Chris is the only member of Scottish National Jazz Orchestra who has toured with both The Bad Plus and Harry Secombe!
http://www.myspace.com/chrisgreive
Chris Wallace
Chris Wallace was born in Canada. He toured and recorded extensively in the rock and pop field in Canada, the US and Europe through the 90s. Since arriving in Scotland, he has worked with many of the country's top jazz musicians including Malcolm MacFarlane, Phil Bancroft, Euan Burton, Paul Harrison, Steve Hamilton, and many others. He has also performed with international artists such as guitarist Ulf Wakenius and trumpeter Anders Bergkranz.
http://www.newtnet.co.uk/About/Chris-Wallace
---
TR-I/O-FON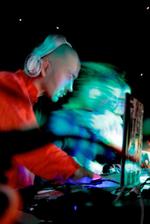 Triofon is an improvising laptop trio made up of Jules Rawlinson, Dave Murray-Rust and Owen Green that brings together plunderphonic impulse and performance practice, weaving together influences from Basic Channel to Black Sabbath, and Stockhausen to Steinski.
Jules, Dave and Owen are all active within the various configurations thrown together by the University's Sound Lab Edinburgh collective, focusing on the interstices of 'musicking' with technology. The laptops are networked allowing each performer to sample and process the output of any of the others, and to use these audio outputs as control data for signal processing, creating a dub bricollage that's fractured and flowing by turns, generating material that is woven together with interactions and interjections, riposte and repose.
In short, Dave brings the beats, Owen brings the noise, and Jules brings too many controllers to fit on one table.
http://mo-seph.com/music/triofon
Owen Green
Owen Green is a maker of electronic music. As well as a solo practice currently focused on the joys of improvisation with poorly behaved machines, Owen is one half of the eclectic noise/hip-hop/pantomime duo Sileni whose debut album was released in 2009. In addition, he performs with a number of other ensembles and loose federations (anyone who will have him), and occasionally produces other people's records. Owen is doing a PhD in Composition at City University, London.
Jules Rawlinson
Jules Rawlinson is a sound designer, composer and multimedia developer who performs in solo and group settings with custom software, adaptable controllers and boutique modular electronics. Jules has a PhD in Composition from Edinburgh, contributed to Cybersonica's AVLab and Future of Sound/Future of Light events, and was as surprised as anyone to hear his variegated noise(s) on Radio 3!
http://www.pixelmechanics.com/
Dave Murray-Rust
Dave Murray-Rust does totally un-musical things as a day-job. Before that, Dave got a PhD in Artificial Intelligence and Music from Edinburgh, attempting to use AI techniques to make computers be better improvisational partners by understanding the communication which happens when people make music together. He tries to keep things as responsive as possible, while using the range of sound that machines make available to us. Dave is a serial collaborator and likes sparkling, wiggling, crunchy time signatures and dirty basses.
---