Powerplant IMPORT EXPORT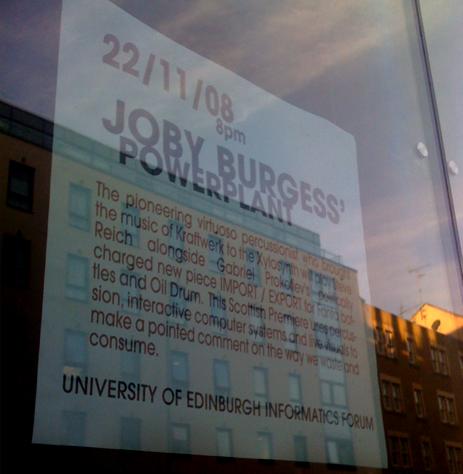 IMPORT/EXPORT
Joby Burgess

percussion

Matthew Fairclough

sound design

Kathy Hinde

visuals
Led by genre trashing British percussionist Joby Burgess, Powerplant has created an experimental and challenging repertoire, exploring hi-octane percussion-led music with an electronic sound and strong visual performance.
Since making its debut in 2005, the trio has performed throughout the United Kingdom fusing together seminal contemporary works alongside improvisation, remixes of electronic dance music pioneers Kraftwerk and in 2006 was one of the few ensembles invited to perform at Steve Reich's Barbican birthday celebrations 'Phases'.
Powerplant's latest offering features two major new multimedia commissions; Gabriel Prokofiev's 'Import/Export' uses found objects (oil drums, Nigerian Fanta bottles, plastic bags and a wooden pallet) woven together with live electronics and film to explore social themes and global resonances; whilst British minimalist, Graham Fitkin utilizes the xylosynth (a midi percussion controller) with live electronics, motion-tracking and live visuals.
Programme
Audiotectonics III

Matthew Fairclough

Carbon Copy

Burgess/Fairclough

Temazcal

Javier Alvarez

New Work

(world premiere) Graham Fitkin

Electric Counterpoint

Steve Reich
Import/Export

(world premiere) Gabriel Prokofiev