Cycles
Thomas Strønen with Mr McFall's Chamber
This event has now passed, but you can read a review at the list. Its not impossible that we may be releasing some audio of the concert as well so watch this space...
"Cycles" – an evening of bicycles and music
The Drill Hall, Dalmeny St.
8 pm Wednesday 12th November
In association with Sustrans, Cycling Scotland, Spokes and The Bike Station. Bicycle surgery by Dr Bike; exhibitions and discussions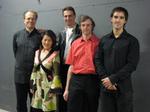 Tickets £8 or £6 for students, OAPs or anyone arriving by bike. Please note that ticketing for this event is not connected with the eventbrite ticketing for the other concerts and is instead handled via The Bongo Club.
Programme includes Thomas Strønen's "Music Metrique" along with new works by Brian Schiele and Rick Standley
Thomas Strønen

percussion and electronics

Robert McFall

violin

Brian Schiele

viola

Su-a Lee

'cello

Rick Standley

double bass

Alex Fiennes

sound engineering
If you are planning to attend then please show your support and register on facebook (and invite your friends as well...)