Jordan Fleming
jsf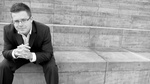 Jordan Samuel Fleming started out his life
in Edinburgh as a degenerate musician and has
ended up, for his sins, as a respectable businessman.
(He's still a bit confused...but far happier.)
Good:
Red Wine, Scuba Diving,
Power Kites and Sounds
Bad:
Mushrooms, Coleslaw, Small Elevators
(and children in restaurants)
You can find him @ http://www.design-ate.com where he's
the Managing Director.