Sunday March 27th
£10 @ Speakeasy, Voodoo Rooms, Edinburgh
We are very pleased to announce a very limited availability concert. Following on from the success of their collaboration with Christian Fennesz at Cheltenham (and Radio 3) last year, Food is coming to the UK with Eivind Aarset. We have managed to slip a small and intimate performance in after the showcase at The Sage Gateshead.
More on Eivind Aarset...
---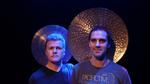 Now in their twelfth year and recently signed to ECM Records, this groundbreaking group has toured and recorded internationally creating thought provoking improvised music of great depth and beauty.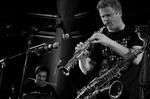 With a dynamic and forward-thinking approach, their music incorporates and juxtaposes elements of sound, space, texture and contrast. By combining acoustic elements including bells, blocks, gongs and a lyrical saxophone voice, the musicians create moods using a broad palette that can range from almost the minimalist to the angular and more turbulent end of the musical spectrum. Their sound is further enhanced and tempered with live sampling, drums and electronics.
Food's multi-faceted creative process has steadily evolved into a strong and personal approach but perhaps the most notable faculty of this band is a unique flexibility as an ensemble which allows them to function in many shapes and forms. This ranges from the core duo of Ballamy and Strønen to larger and more diverse ensembles created by inviting other like-minded musicians to join them for performances. This flexible concept has helped the band to broaden and evolve further, creating ever-changing moods and environments that form a basis for truly contemporary improvised music.
Quiet Inlet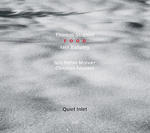 Quiet Inlet (ECM 2163) is Food's sixth CD release and their first for ECM records. Among many excellent reviews the Album received a double 5 star review in July 2010 issue of BBC music magazine.
Guest musicians who have performed with Food include trumpeters Arve Henriksen, Nils Petter Molvaer and Tom Arthurs, Indian musicians including R.A Ramamani, T.A.S Mani Sitarist Ravi Chary and slide guitarist Prakash Sontakke and the Norwegian keyboardist Morten Quenild.
Ballamy and Strønen formed the core of a chamber work entitled Gold Acre which was commissioned from Ballamy by BBC Radio 3 and featured Arve Henriksen as the soloist with the London Sinfonietta. Gold Acre was premiered at Kings Place in London in November 2008.
Food on the web
Food on Spotify
---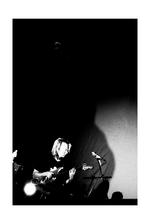 Eivind Aarset is a guitarist with a unique musical vision that absorbs and reflects whilst retaining an enviable individualism craftsmanship spanning from quiet intimacy to searing intensity.
His debut as a bandleader on Jazzland Recordings was described by the New York Times as "One of the best post-Miles electric jazz albums," setting a high benchmark that Aarset has consistently met and exceeded, both in the studio and in live performance.
As one of Norway's most in-demand guitarists, Eivind Aarset has worked with Bill Laswell, Dhafer Youssef, Jon Hassell, Jan Garbarek, Paolo Fresu, Marilyn Mazur, J.Peter Schwalm, and Talvin Singh. He has worked with Nils Petter Molvaer's band, (appearing on all of Molvaer's albums, including the breakthrough album "Khmer" and 2006's award-winning "ER"). Eivind has also has collaborated with Dhafer Youssef, both live and in the studio.
Eivind on the web
Eivind on spotify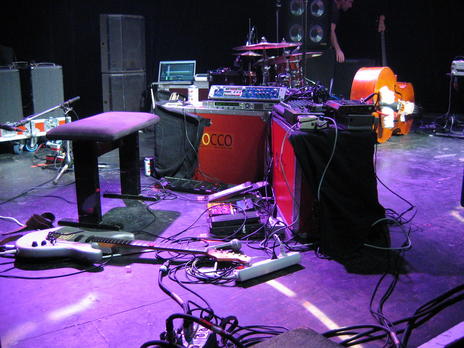 ---
Other Dates...
This concert is part of a short tour and if you can't make it then you can catch them at: