Pianos Plus
October 2nd 2009
The Grew Brothers - photo by Zhen Wei Huang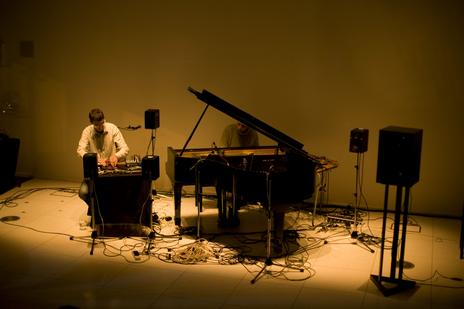 dialogues' second inspace concert features Sebastian Lexer (piano+) with Seymour Wright (sax), we've also got the Grew Brothers (consisting of Stephen Grew -piano and Nicholas Grew -electronics). Also on the bill is Lauren Hayes' new project for augmented prepared piano and a chance to catch Edinburgh's free improvisation trio lapslap.
Tickets are by donation for this event, you can leave cash on the door or donate by pay pal via this site to guarantee entry.
http://dialoguesinspace02.eventbrite.com/
Check out the following links for sounds and info on the artists, see you there, 8pm 2nd October 2009.
Sebastian Lexer
http://sebastianlexer.eu/
Seymour Wright - here playing with Keith Rowe
http://homepage.mac.com/misha_david/MishMusic/iMovieTheater26.html
Stephen Grew
http://www.myspace.com/stephengrew
The Grew Brothers
http://www.myspace.com/grewgrew
Lapslap
http://www.lapslap.net
http://www.myspace.com/lapslap