Lukas Ligeti - photo by Chris Woltmann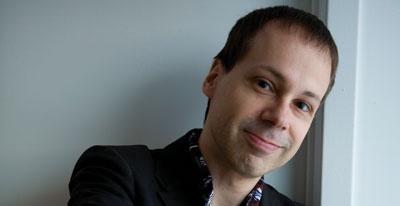 dialogues' third Inspace concert features percussionist, composer and improviser Lukas Ligeti.
Lukas is with us for three days where he'll run an improvisation and live performance workshop with students on our MScs in Digital Composition and Performance and Sound Design. They'll perform on the 20th November at 8pm.
Tickets are available on a Pay What You Can/ donation basis. Plase reserve via http://dialoguesinspace03.eventbrite.com/
Lukas Ligeti - solo electronic percussion.
"A new generation of musical Superman - a globally minded, technologically adept, technically sophisticated composer who also happens to be a virtuoso performer and accomplished improviser." LA Times
Ligeti performs his music for solo electronic percussion on the marimba lumina, an electronic marimba designed by synth pioneer Donald Buchla. With this instrument he explores his interest in the motional aspect of music as well as the impact of computer technology on ways of playing percussion. The result is a collection of highly kinetic works far removed from the sterility of drum machine programming. Most of the sound material used was created by Ligeti by means of sampling, often during his travels in Africa, recording soundscapes, traditional instruments and other inspirations that are manipulated and altered to create highly original new melodies, rhythms and textures.
Lukas Ligeti's music is deeply rooted in a cosmopolitan cultural mix. Born in Vienna into a remarkable artistic family with ancestors such as violinist Leopold Auer (teacher of Heifetz and Milstein), architect/designer Marcel Breuer, and, of course, his father, the great composer György Ligeti, he started his musical adventures only after graduating from high school. He studied at the University for Music and Performing Arts in Vienna and then moved to the U.S., spending two years in California before settling in New York City in 1998.
Tues 17 Nov, 8pm and Friday 20th, 8pm
EDINBURGH Inspace
Part of Dialogues Festival
1 Crichton Street, Edinburgh, EH8 9AB
Tickets: Pay What You Can/ donation : reserve via http://dialoguesinspace03.eventbrite.com/
Useful websites: http://www.myspace.com/lukasligeti
For more information
info@dialogues-festival.org