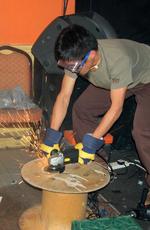 Diva Abrasiva is the collision of three musicians, who met surprisingly in a physics department. Inspired by a wide/wild range of music and art, as shown by their influences, it was created to find a thread through electroacoustic, contemporary music, noise, free jazz, live improvisation, ambient, metal and more. "Free Jazz Noise with hint of industrial post-doom" was how the band was described on the poster for their first gig.
As an improvisational group, collaboration is always one of the most interesting things for us, exploring sound, music and performance from a different perspective.
Lin Zhang
Sound Artist, Sound Designer, Acoustician, Practicer. He moved to Edinburgh after gaining his Master of arts in Sonic Arts, SARC, within which he studied electro-acoustic composition with Michael Alcorn as well sound synthesis, music technology and sound design. He also did electronics in China, while playing a lot of death metal, and lived in Sweden for two years just for breathing fresh air and lying in snow.
Currently in Edinburgh, he is doing research in physical modeling sound synthesis, academically tutoring in general physics, music acoustics and supercollider.
Meanwhile, he started a organization based around regular events called Grind Sight Open Eye, dedicated to experimental sound and vision, promoting experimental, avant-garde and improvisational music.
Matthew Salewski
Trained in double-bass performance and studied composition with Joseph 'Butch' Rovan at Florida State University, USA. Member of a free-form, improvisational group 'The Organ Triumphant', along with Loren Boyer (now with Horse Sinister) and Nate Hill (The GREATEST Artist of All Time; http://stoproadkill.org/). Played with the (now defunct?) New World Ensemble under Ethan Schaffner and Elisabeth King. Dormant for years concentrating on the work as Particle physicist , re-emerging under the partnership of Diva Abrasiva.
Nick Styles
Experimental particle physicist at the University of Edinburgh. Played in the (largely) instrumental rock band Leda Atomica with Anton and Johnny Hunter for over ten years, who are currently on hiatus due to geographical issues. Now playing in Diva Abrasiva, which allows full and free exploration of improvisational and extended guitar techniques that came to the fore in Leda Atomica's later music.