Puma
May 17th, Bongo Club, 7pm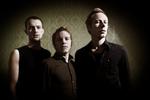 Puma are the radical rebels of the fertile Norwegian rock, free-jazz and electronic music scene, and has, by audience and critics in both Norway and Europe, been eagerly compared to both Supersilent, MoHa and Scorch. Despite this, Puma is a leading force, constituting their unique style of play, including a vast spectrum of sources and styles, that these three men so courageously balance on stage in their live-show.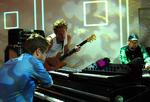 The performance of Puma is not possible to stereotype, and is very hard to even describe, but the listener will experience the most sincere of melodic music, ranging from loud intense physical gestures to the most concentrated gentle hum. The many aspects of their music, the willingness to both confront and compliment each other with both razor-edged musical motion to unrestrained drift to wherever, the balance between the almost rigorously precisly timed rhythmical patterns, to the limitless freeflowing musical strain, makes Puma hauls an energy on their liveshows that very few other bands do after them. Their musical honesty has made Puma a certain favourite amongst fans of both rock, jazz and electronic music, as a true sign of Puma's uniqueness.
http://www.puma-music.com
http://www.myspace.com/pumapumapuma
The trio was awarded the prestigious "Young Jazz Musicians Of The Year" - award in Norway in 2006, and has since then released two albums, Isolationism (2007), and the Discotheque Bitpunching which is out very soon on Bolage Recordings.




The Bongo Club, 17th May 7pm
£5/£3, advance sales
Event supported by fiennes.org and Edinburgh University.